16 November 2022
How do we ensure quality, equitable and inclusive education for all? Early literacy Q&A part 3 of 3
International Literacy Day has been celebrated annually since 1966. This year's theme is 'Transforming Literacy Learning Spaces… an opportunity to rethink the fundamental importance of literacy learning spaces to build resilience and ensure quality, equitable and inclusive education for all'.
Rather than focus on a single day in September, we asked some of the people and organizations that do critical work in the early literacy field to answer three important questions related to the theme and how they plan to sustain the good work they are doing over time.
As noted in the first part of this series, we have divided this piece into three parts. Read part two here.
Our Q&A participants
Dr Nkem Osuigwe was recently named the Wikimedia Newcomer of the Year and spoke to us on behalf of the African Library and Information Associations and Institutions (AfLIA) where she works as Human Capacity Development and Training Director.
Dr Osuigwe nominated Dunstanette Davies, head of the children's department at the Sierra Leone Library Board, to share her personal thoughts and early literacy experiences. Davies was also part of the first cohort of librarians to pilot AfLIA's Early Literacy Development Course, specifically created, in partnership with NBA, for librarians and library staff in Africa, who want to support children in their early literacy learning journey. On finishing the course, Davies stated that 'the Early Literacy course has given me more confidence to engage in discussions concerning early literacy development. Am forever grateful'. So, it's great to have her included in this conversation.
Prolific South African author and translator, Lorato Trok, responded to our questions from her own point of view as well as that of that of the Puku Foundation, where she works as the Managing Editor.
We also heard from Dorcas Wepukhulu on behalf of African Storybook (ASb), a multilingual literacy initiative that works with educators and children to publish openly licensed storybooks for early reading in African languages. ASb was established by Saide, a non-governmental organization (NGO) where Wepukhulu works as the East and West African Coordinator.
Purvi Shah, Senior Director at StoryWeaver, an initiative by India's non-profit publisher, Pratham Books, commented from her experience at StoryWeaver: A platform on which multilingual reading resources can be created, translated and freely accessed. It helps children build reading habits through openly licensed storybooks, reading programmes, audio books and videos, and is one of the largest open educational resources (OER) for children's storybooks, with over 300 languages represented.
Julia Norrish, Executive Director at Book Dash, provided input from the South African-based, social impact publisher. Book Dash believes that every child should own one hundred books by the age of five. The books are created by volunteer groups of professional writers, editors, and illustrators, and are openly licensed so that they can be freely translated, printed, and distributed.
Noluthando Ncube, the Ulwazi Lwethu project manager gave insight to this African language reading materials project, which was set up by the Zenex Foundation in South Africa. This resource development initiative is developing African language reading books and teacher reading support resources targeted at teaching learners in the foundation phase to read in their home language.
Note: This is the final party of a three-part series. Some of the answers have been edited for length.
In Part 3 of our Q&A we asked:
How does the phrase 'quality, equitable and inclusive education for all' translate for you and your organization? Think about this in terms of open licensing of books and materials, accessibility to early literacy books and materials for children with disabilities, as well as the creation of mother-tongue books and materials. 
 
Nkem Osuigwe for AfLIA: Children learn in the mother tongue first. They build their vocabulary and understanding of concepts and the world around them from listening and being spoken to at home. However, a great majority of supplementary reading materials available in libraries across Africa are in the 'official languages'. AfLIA believes that quality, equitable and inclusive education should take cognizance of the multilingual nature of African communities and provide resources in different local languages. This may be all that is needed to assist children with reading difficulties to overcome their challenges.
Dunstanette Davies: It is our responsibility as a library to provide free, quality education for all. To accomplish this there are steps we need to take to make sure our services are efficient and effective. The major challenge in offering quality service is having the right resources and equipment. Thankfully we have been engaging with partners like AfLIA and Book Aid International to develop methods of acquiring needed resources and presenting our services. The library now accesses open licensing resources and makes them available for users. We are no longer limited to donations, and we have developed modern skills in the way we provide access to our collections. With training from AfLIA we now translate and use mother tongue books and materials in our libraries. We also believe that early literacy books should reach children with disabilities, and we do so by taking books to them in hospitals and via their communities.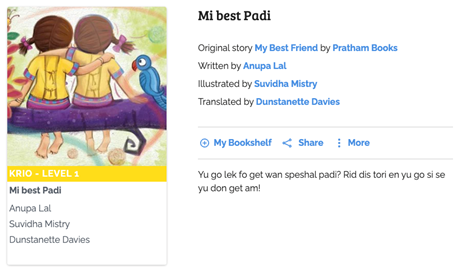 Using what she learnt during AfLIA's Early Literacy Development course, Dunstanette Davies was able to translate a StoryWeaver book from English into Krio for use in the library. Image source: StoryWeaver.
Lorato Trok: Our core work at Puku has always been about providing quality reviews done by people who are highly trained, equitable and inclusive. This means books that are reviewed are from all publishers, big and small, and especially in languages that are rarely represented in mainstream publishing, accessible through the Puku website to anyone who is able to connect. Our work is not just exclusive to Puku, we have shared our reviews with other entities, like the International Board on Books for Young People (IBBY), that share our vision. Our partner organizations like African Storybook provide openly licensed children's materials and cater for children with disabilities through audio stories in mother-tongue languages. Their apps are zero rated* and can be used without connecting with data. We ensure that we make the work of our partner organizations visible so that they can be widely accessed and used.
* Zero-rating a website or mobile app means that that website or app can be used without the consumer incurring any data costs. 
Speaking of languages that are rarely represented in mainstream publishing, Trok, together with Puku, worked on getting Tortoise and Ostrich published, the first book available in South Africa's endangered, N/uu language. The story is told by Katrina Esau, one of the last speakers of the N/uu language. It's one of the San folk tales she was told as a child, sitting around the fire, listening to her family telling the same stories they had heard as children, keeping their oral story-telling tradition alive. Fondly known as Queen or Ouma, Katrina lives in Rosedale, outside Upington in South Africa's Northern Cape province. Trok championed the project, getting behind the idea after encouraging Ouma Katrina to attend a My Language, My Heritage writing workshop hosted in the Northern Cape, and then getting to know her on a personal level. The book is available to purchase online from Book Circle Capital. 
Purvi Shah for StoryWeaver: Our editors are committed to creating inclusive books that represent our readers. From commissioning writers who work in their mother tongue, to developing a gender and diversity guide with UNICEF, to making sure our books don't leave anyone behind. This guide should be made available online soon.  
StoryWeaver has catalyzed the creation of quality reading materials for children in indigenous languages that are largely ignored by mainstream publishers. Our innovative model has as its core a large repository of high -quality, openly licensed storybooks from publishers, such as Pratham Books, Book Dash, Room to Read and others, which can be read online, offline or printed and used. Users can also translate the original content into new languages and this has led to a huge amplification of books for children especially in minority and indigenous languages.
The model is predicated on the fact that there is a huge shortage of books in mother tongue languages for children and by empowering local actors to participate in the process of translation of original content, the book gap can be narrowed. In our quest to reach every child, in their mother tongue we did something very unusual for a publisher, we open sourced our books under the Creative Commons Attribution license. The idea behind this was not only to make our books available to all children for free but also to allow them to be translated into languages that we did not have expertise in, or to be versioned into new forms such as Braille books, audio books or audio visual books.
This action exponentially expanded our impact. It has been extremely heartening for us to see our mission come to life when we see hundreds of books being published in indigenous languages like Gondi, Kora, Pawari, Korku, Santali, Surjapuri and many more, from India and around the world. In most of these languages, books are either scarce or non-existent. 
Some examples: 
 
Storybooks in Chocholteco (an indigenous language from Mexico) on the platform are some of the first written records of the language in a decade. These storybooks have been translated by the language collectives and experts from Oaxaca, Mexico who are working to revitalise the language - they have created more than 300 storybooks on StoryWeaver in 15 indigenous languages like Mixe, Triqui, Chatino. 
Suchana, an NGO in Birbhum district of West Bengal, India has been promoting learning among tribal children through their mother tongues in the early years. Both Santali and Kora have a rich oral tradition but no children's literature. The collaboration with StoryWeaver allowed them to translate 105 books in Santali and a 100 in Kora within two years. 10,000 copies of 20 titles have been printed and distributed to government schools, pre-schools and other organizations in the region.  
Surjapuri is a minor language spoken in pockets of Bihar, West Bengal, Assam in India and Bangladesh by 1.2 million people. Unfortunately, there are no books in this language and a real possibility of the language being lost as most people speak Hindi. A total of 100 books developed by the Azad India Foundation are now being used in the 75 learning centers run by the organization. 
Toto is an oral language with no script and spoken only in a village called Totopara in Alipurdur in West Bengal, India. Under a project called the Study and Research of Indigenous and Endangered languages of India of the Jadavpur University, efforts were made to create a storybook on StoryWeaver to document the language.
StoryWeaver has also developed a translation sprint workshop model that has been used extensively in many countries to translate books into new languages.  It includes a peer-to-peer review system that aids the quality checking of books that are created. Translation partners and individual language champions are also identified and upskilled through sustained community engagement.
Source: YouTube
Dorcas Wepukhulu for African Storybook: Currently, ASb has over 3,000 unique openly licensed storybooks and over 7,000 translations representing 200 African languages. The storybooks are published in five broad levels to cater for different reading abilities. Quality assurance is built into our storybook development and publishing process, especially for local languages where we don't have internal capacity. We take into consideration what the target audience, such as a Ministry of Education, needs and considers appropriate, and simultaneously keep in mind global perspectives. It is a give and take process because we package specific content in a way that is generally acceptable and meaningful. This means, that we help participating writers to shift their mind-set, where necessary. Quality is also about how we present the language, content, characters and images to achieve what the story conveys, being mindful of children's rights and emotions. Quality is not only about content, but also about effective, context-specific use of the books to maximise their potential and to achieve the desired change. We insert the 'ASb approved' label on the front of quality assured storybooks and showcase these on the landing page with a little 'i' explaining what this means. Only quality assured storybooks can be translated or adapted.
For children's literacy material to be equitable and inclusive, it must be appropriate for the child's context and age, with images that make sense to the child and support the meaning of the written text, it must also be available, accessible and affordable. With technology and open licensing, ASb aims to get storybooks to every child learning to read, in a language that is familiar to them; with content that speaks to their interests, and experience. Anyone with some internet connectivity, can access the website and download storybooks to read, download to print as PDF, or in bulk, or as an EPUB file. With a smartphone or tablet, one can also download the ASb Reader App from Google Play to create their own library on the device for reading offline. Where more resources are available, educators can combine digital and print to give children the experience of both.
Children with disabilities can read over 200 ASb storybooks in eBraille and/or in Kenya, Rwanda or Malawi sign language, made possible by our partner, eKitabu. Children with visual impairment can also access ASb audio storybooks from our other partner, Storybooks Canada and via Book Share for anyone with a reading or perceptual disability, a visual impairment, or a physical disability that affects their ability to read printed works.
 
Visit the StoryBooks Canada website to hear this story, Goat, Dog, and Cow read by Abenezer Chane in Amharic. The story is also available in many other languages that can be selected via the change language drop down menu.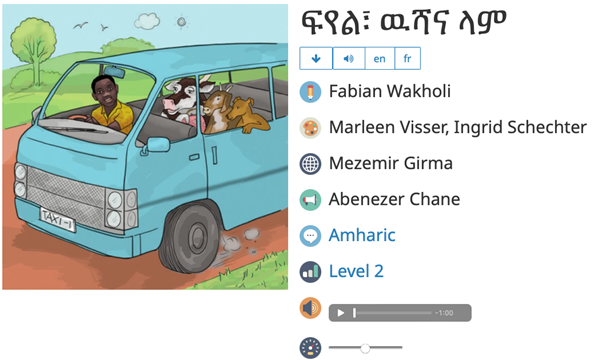 This is an illustration of the African Storybook picture book, Goat, Dog, and Cow as it appears on the Storybooks Canada website. The menu on the right allows users to change the text and audio language the story is available in.
Julia Norrish at Book Dash: In terms of quality and equitable access to resources for all, the main thing for Book Dash is that the resources are of a high quality: the illustrations are beautiful, the story is well crafted and it's appropriate for the child's age and context. They can see something in the characters and the environment that they can relate to, even if it's not a representation of their exact reality, and the stories, vocabulary, style and complexity of language, are not alienating to the child. The language also needs to be accessible, a language that they are familiar with; ideally home language when you're dealing with very young children, but exposure to common languages like English does become increasingly more important as the child gets older. Wordless books are also available so anyone with a certain level of visual literacy can access the pictures, but there's no formal text literacy required. Children and low-literate adults alike can access and tell the stories and still develop critical, emergent literacy skills.
Having physical, if not digital, versions of the books in their homes, whether that is because the device is in the home and the books are accessible on the device, or the physical books are in the home is important. We believe that having easy access to an abundance of books is what's going to lead to a change and positive reading behaviour for children, because a child should be able to choose what they want to read. That's what will nurture and trigger a love for reading.
Noluthando Ncube for the Zenex Foundation's Ulwazi Lwethu project: The Ulwazi Lwethu Project is built on the ethos of accessibility, inclusivity, and equity. The project has made tremendous strides in creating and supporting capacity within the literacy development space. Writing for children is a specialized skill and writing for children in an African language is an even more specialized skill because there hasn't been a lot of support in this space. With this project, we found either people who are mother tongue speakers, but not writers, or people who are mother tongue writers, but not for children. So, we saw this as professional development opportunity and invested in mentoring and training a cohort of writers and illustrators who could tackle subjects like technology, what is the internet, internet safety, and the stories behind our public holidays, amongst others, that hadn't previously been available in all the South African languages. These stories were originated in one of the nine South African languages (other than English or Afrikaans), and then cross-versioned nine times, so that each illustrated story is available in its original language, as well as eight other versions.
For the books, we wanted South African stories that work as windows, that can give children knowledge and information about a world outside of their own, but we also wanted stories that could act as mirrors, so that the children would see themselves within the books.
The books were created in partnership with Room to Read, the Molteno Institute of Language and Literacy, the Nelson Mandela Institute at the University of Fort Hare, and African Storybook. Each book will credit the writer and the illustrator, responsible for creating the story, and because of the variations within individual language groups and various dialects, the books will also state where in South Africa the author comes from. The books are currently going through a quality assurance process with the University of Pretoria and will be available in March 2023. Phase two of the project will see the development of learning and teaching support materials that include teacher and parent guides.
We are committed to open resources in children's education and as such, the Ulwazi Lwethu leisure readers have been published under a CC-BY licence. However, the graded readers which were developed for classroom use, will be published under a CC BY-ND or No Derivatives licence which means they may not be modified as great care was taken to make them decodable and aligned to South Africa's CAPS (Curriculum and Assessment Policy Statement) curriculum.