02 August 2022
A quick look at AfLIA's Early Literacy Development Course as the first cohort receives their certificates!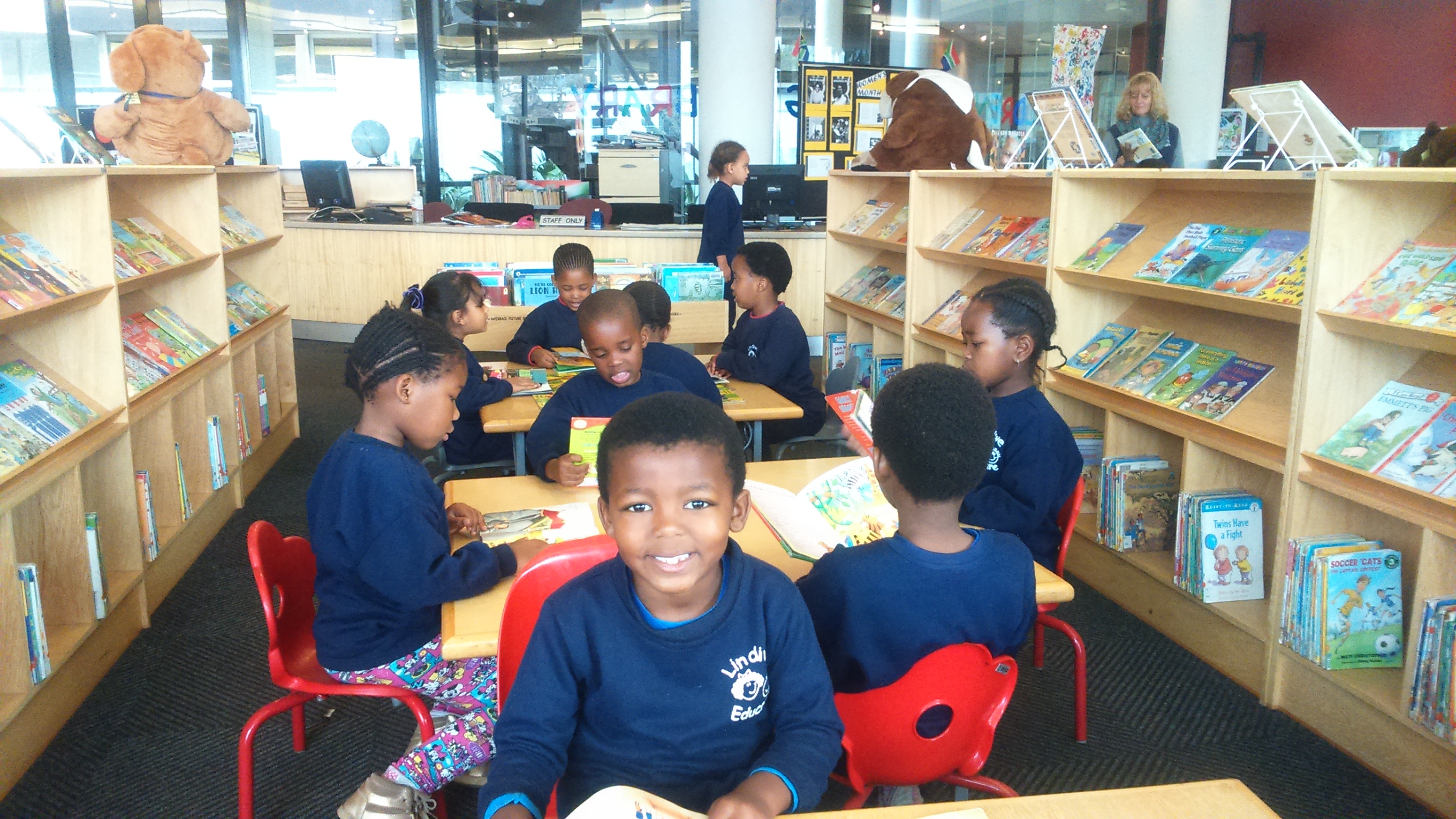 In April 2021, African Library & Information Associations & Institutions (AfLIA) and NBA agreed to work together to develop a course on early literacy development, specifically for librarians and library staff in Africa. In July 2022, the first batch of certificates was issued to the librarians who completed the course pilot!
The course content and direction were informed by a survey carried out in 2021 and targeted at librarians and library staff in 18 English-speaking African countries. Thanks to in-country champions driving engagement, the response rate was encouraging, delivering much rich data and insight into how public and community library staff on the continent see their existing roles and responsibilities, and how they'd like to engage and interact with children in their communities going forward. Click here for more info on the survey.  
It's been a stimulating and exhilarating experience to see the course come to life, as well as the response from the participants working through the material, interacting with each other, working through some frustrations, but ultimately enjoying the learning.
Below you'll find a brief recap of the course experience. If you'd like to read more, Dr Nkem Osuigwe, AfLIA's Human Development and Training Officer, has written a report giving a detailed overview of the course: 'The Role of African Librarians in early Literacy – Report on an AfLIA Short Course', which is available here on the Early Literacy Resource Network website.
As a first step and in a bid to grow a diverse community of practice across the continent, the librarians and library staff selected for the pilot – which launched in April 2022 – were divided into groups that crisscrossed their institutions, countries, and time zones.
Everyone was introduced to the course, and to each other, via a live Zoom session, hosted by Dr Osuigwe. This engaging intro, populated with anecdotes and recollections of her own experience as a librarian, set the tone for the rest of the live sessions – which were held weekly or fortnightly.
Within the first five minutes of the first live Zoom session, Dr Osuigwe had outlined some dire statistics about the state of education and early literacy in Africa. She referred to the policies and plans UNICEF and other organizations were putting into place, but then, critically, asked the most profound question: 'Is that all that can be done? Is that all that Africa can do?'
She continued in this vein, inviting the participants to reflect on their powerful positions as librarians and library staff:
I want to ask, have you ever wondered why some children find it easy to learn in primary school, while some do not? Have you ever thought about how learning to speak and communicate in the mother tongue affects children when they start school and have to learn concepts in another language that they call official? Don't you think this affects how we imbibe knowledge, keeping what is learnt at school, different from what we learn and do at home. As library staff, has it ever occurred to you that your library can change the trajectory of the lives of children in your community? We aim to begin to address the situation through this course…
It was gratifying to see how much these initial questions stuck with the participants throughout the course and informed their considered responses to questions raised in the discussion forums, a sample of which can be seen in the graphic below.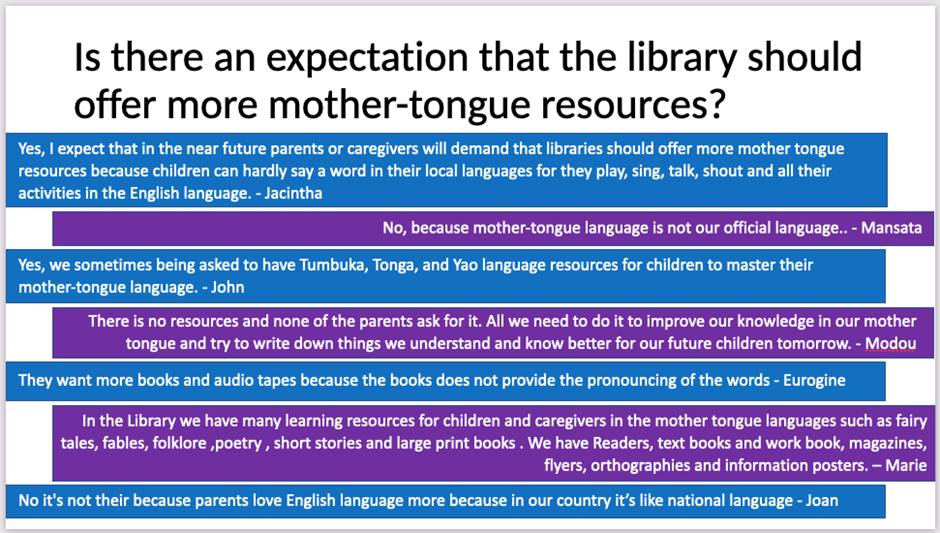 Dr Rachel Ojo came onboard as the course facilitator and, in this role, was indispensable to the participants over the coming weeks. She was available at all hours via WhatsApp and email as everyone worked their way through the course materials and navigated group dynamics. She also managed to offer a triage service as several challenges came to light, including queries about the materials, network connectivity, and technical issues around platform functionality.
The course was housed on the AfLIA Moodle and structured around four distinct modules that were either released to participants weekly or every two weeks. Each module included lessons made up of a variety of reading materials, intersected by a series of discussion forums acting as conversation starters, as well as activities that required the participants to submit responses, which were then reviewed by their peers. These activities ranged from creating mood boards, to the set-up of story hour events, and the translation of existing openly licensed storybooks into mother tongue resources.
Designed to tap into individual expertise and experience, the course was developed around the notion of peer-to-peer learning, with participants expected to engage within their groups via WhatsApp before committing their work to the Moodle.
A first of its kind in Africa, the course materials were developed to meet a few very specific needs, which included:
Getting a feel for the set-up and functionality of the various libraries represented by the participants, and how they can be improved or adapted to better serve children embarking on their early literacy journey. 
Leading the participants to a deeper understanding of how to prompt the creativity of children through innovative and inspired learning methodologies, like learning through play. 
Training public and community librarians and library staff in African countries to understand and practice techniques for teaching children vocabulary development, print and phonemic awareness in mother tongue and English. 
Using open licensing to increase appropriate reading resources for the target age group through the translation of existing stories into mother-tongue languages.
At one point during the course, participants were also tasked with interviewing teachers and parents about what they feel the library should be doing for children, and their input was encouraging in the way it aligned with what the course set out to achieve. See some of these responses captured in the graphic below.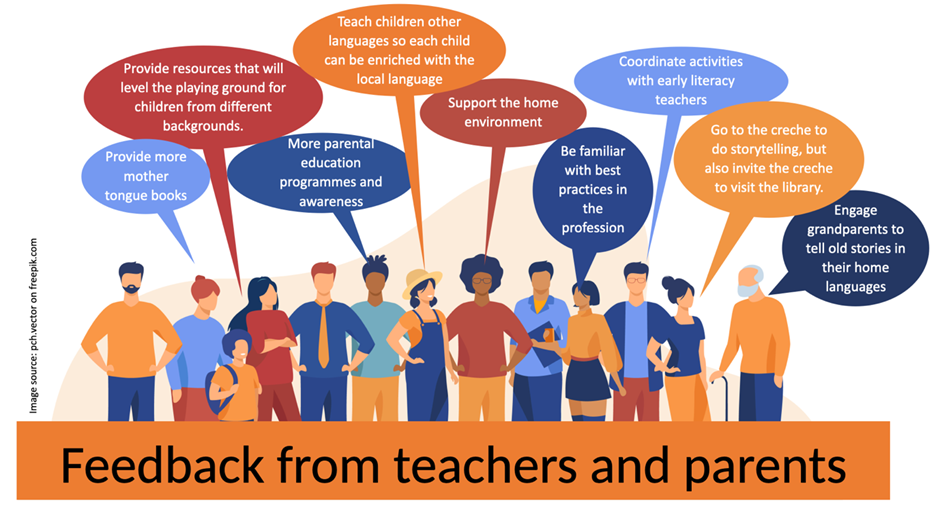 The course is made up of original materials and open education resources (OER) which were sourced specifically for their relevance to librarians and library staff in an African context.
Following the completion of each module, the course participants were asked to complete a survey, which gave instant insight into how the learning was received and what was causing delight or frustration. This feedback, as well as feedback collected via email and through the WhatsApp group, will be invaluable when the next iteration of the course is designed. In the interim, the report has used the data points to create a list of recommendations.
In addition to frustrating technical challenges – network issues proving insurmountable for many participants – the group dynamics also suffered with internet connectivity and time zones getting in the way of some potentially great conversations and collaborations.
Delight was apparent in many of the illuminating conversations held over WhatsApp and in answer to the conversation starters on the Moodle discussion forums, with many of the participants expressing their joy and wonder at the discovery of something new that they could easily employ in their own libraries. There was also an enormous sense of pride felt when discovering that mother-tongue reading materials were just a translation away via the openly licensed resources participants were introduced to and taught how to use.
If you're interested in learning more about this openly licensed course, or making use of the materials, please download the report which includes a resource appendix. You can access course materials and presentations here. A version of the course is also available for download, please contact us if you would like to download the materials, reuse them, or adapt the course.